2018 – 27th On property sale report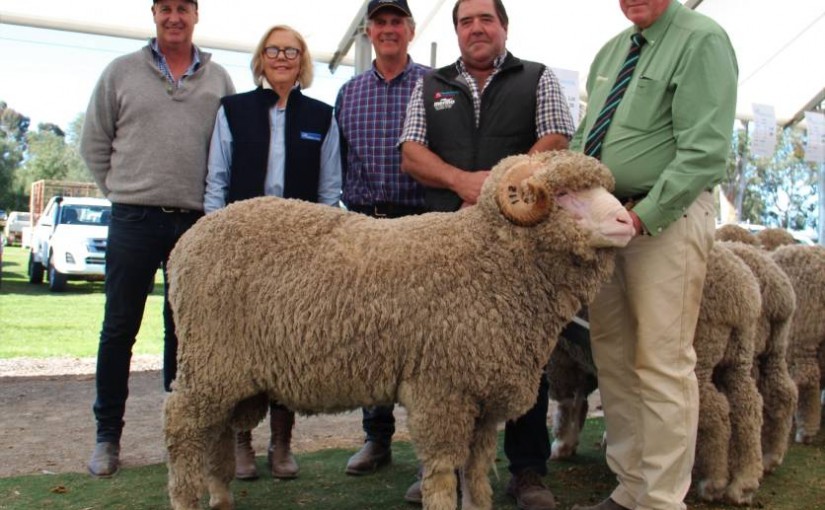 November 12, 2018
Trent Carter
Wallaloo Park sells Merino ram to a record top of $52K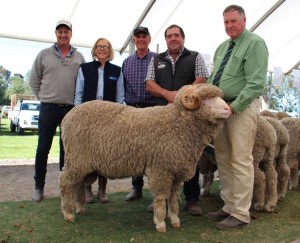 Confidence spurred on by strong wool prices has seen the Carter family of Wallaloo Merino stud, Marnoo, sell 185 rams to a record-breaking top of $52,000.
The impressive figure is believed to be a new national on-property record for 2018.
Of the 194 Poll Merino and Merino rams offered, 185 sold for an average of $3681.
The $52,000 top-price was knocked down to Scott Pickering of Derella Downs Merino stud, Esperance, Western Australia.
The much talked 127 kilogram April 2017-drop ram held fleece measurements of 18.9-micron fibre diametre, 2.7 standard deviation, 14 per cent coefficient of variation and 99.9pc comfort factor.
Mr Pickering said he first saw the ram at Bendigo and was in the market for an impact horned ram.
"He fits in very well with our type, he's got a bold, heavy cutting fleece on a good frame," Mr Pickering said.
"It is really hard to find a good horn ram at the moment."
The second highest price paid was $18,000, which went to Pat Millear, Stud Park South, Willaura.
Franklin Grazing of WA made a purchased of one ram for the third highest price of $14,000.
Volume buyer was Dhuramein Nominees, Balranald, NSW, who purchased 27 rams to a top of $3500 three times and averaging $2370.
Bill Frew of Yass, NSW, took away 10 rams to average $2950 and top at $4000 while MR and SK Barr, Newdegate, WA, purchased 12 rams to a top of $6000 and a strong average of $3875.
Purchasing from the middle of the draft was Barmoul Nominees, "Belmont", Barham, NSW, who loaded up with 12 rams to average $1500.
Landmark's Andrew Sloan said it was a very even draft of rams presented by the Carter family.
"It was a terrific result with a strong average. It certainly showed the confidence in the industry we are currently experiencing," Mr Sloan said.
Stud co-principal Trent Carter said he was thrilled with the sale.
"We haven't had confirmation either way to let us know whether it beat the country-wide record, but nonetheless, it's fantastic," he said.
"We never thought that this would be possible, with how the Poll Merino industry is going.
"This ram really ticked all the boxes and the buyers were very pleased."
Of the 194 Poll Merino and Merino rams offered, 185 sold for an average of $3681.
"We've had years with higher averages, but it was a really good day overall," he said.
"The rams that were passed over during the auction were all sold afterwards.
"Some people who turned up for the sale are in dire straights, but their outlook was extremely positive; these are people who are just passionate about the industry."
The stud will head to the Marnoo Field Day on September 20. The sale was conducted by Landmark and Elders.
Written by Kristen Frost – 20 Sep 2018