Wallaloo Park rams sell to widespread demand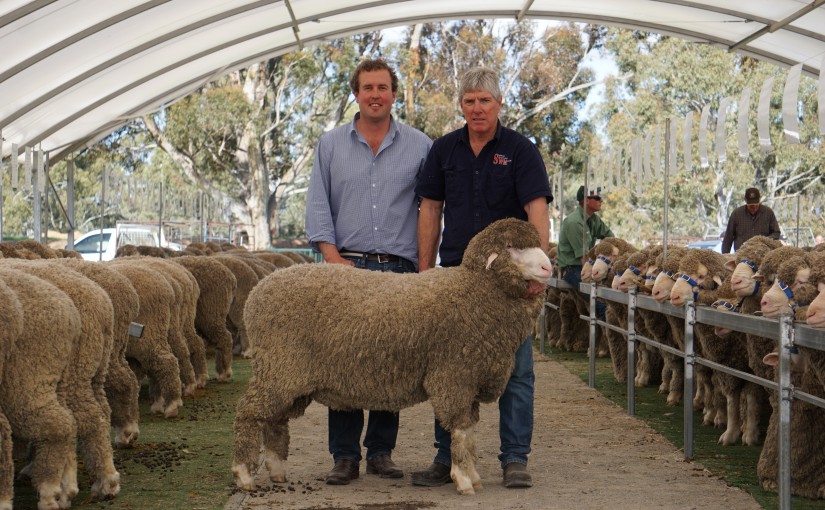 November 4, 2019
Trent Carter
Wallaloo Park rams sell to widespread demand
Stock & Land – Alastair Dowie –
Superior Wool Merinos got stuck in early at the annual Wallaloo Park ram sale, paying the top price of $18,000 for lot one in the catalogue.
The ram was first of 196 at Wallaloo Park Merino stud, Wallaloo, that averaged $2796 a head on a clearance rate of 96 per cent.
Superior's principal Richard Harkness liked what he saw from the start and won the poll ram for his Tintinara, SA, based stud.
Mr Harkness said he usually purchased a sire each year and this year's purchase had the wool quality and structure he was seeking.
The dual poll ram was by Wallaloo Park 150422 and had a number of full brothers through the sale.
Wallaloo Park co-principal Trent Carter said the ram's sire had bred well in the flock and carried that through with success at the Australian Sheep & Wool Show.
"The sale ram generated a lot of interest with his rich, deep staple," Mr Carter said.
"The ram was an embryo transfer out of one of our leading ET ewes.
"It's a cross that really worked."
The 17.6 micron ram had figures of 17.6 co-efficient of variation, 3.1 standard deviation, 99.9pc comfort factor and a yearling clean fleece weight of 26, putting it in the top 10pc of the breed.
Another ET ram by 150422, lot five, sold for $9000 to J Franklin, Bombala, NSW.
The 17.7 micron ram had figures of 14.1 CV, 2.4 SD and CF of 99.8.
Tom Edgell, Denniston, Bothwell, Tasmania, also paid $9000 for a ram he selected that held figures of 20 microns, 14.3 CV, 2.9 SD and 30 for YCFW.
A ram that was passed in at $7000 at auction sold minutes later for $10,000.
The ram was bought by Kluska Ag, Bordertown, SA.
Trent Carter said the 20.6 micron ram, weighing 130 kilograms, had "tremendous visual attributes" that were backed up by its breeding values.
The ram had a CV of 15.9, SD of 3.3 and CF of 99.2pc.
It also showed figures of 24.9 for YCFW.
The Ramsgate Poll Merino stud of Craig and Jed Keller, Tintinara, SA, paid $8000 for lot 18.
The 19.2 micron ram had a CV of 15.7, SD of 3 and a YCFW of 27.
NG & KM Hunter, Willaura, started early also with a winning bid of $7500 on lot five. The ram was also sired by 150422.
The final ram of the auction, lot 196, a full brother to lot one, sold for $7000 to Stud Park South, Willaura.
Stud principal Pat Millear said he liked the ram's pedigree and its "doing ability all in a good square sheep".
Trent Carter said the ram had been in the stud's reserve team and would have been been retained for use in the stud.
The 22.6 micron ram was a double poll with CD of 15.1, SD 3.4, CF of 98.2 and YCFW of 28.
Also paying $7000 for a ram was S & J Pitson, Valley Vista, Culcairn, NSW.
Volume purchaser again this year was the Gorey family, Dhuramein Nominees, Moulamein, NSW.
After buying 28 rams in 2018, the family paid up to $2500 a head for the 32 rams it took home this year.
MR & SK Barr, Newdegate, Western Australia, selected 12 rams to a top of $5000.
Also buying 12 rams was J Flanery, Boorowa Flats, Galong, NSW. The purchases topped at $4000.
NSW-based Verona Partnership, Condobolin, bought eight rams to a top of $3500; Shingle Hut, Wycheproof, bought seven at up to $3000, and Korrangie Farms, Kerang, bought five rams for up to $4000.
Stock & Land – Alastair Dowie –